Tennis is one of the most popular sports in the world. This high-intensity game usually requires the players to play under the heat of the sun. This is why good eyewear is necessary to protect eyes from glare and UV exposure. Thankfully, there are now a number of good tennis sunglasses that help protect eyes, as well as, improve experiences. Tennis sunglasses should provide superior UV protection, as well as, light protection while allowing you to move quickly without displacing the glasses off your head. Tennis sunglasses are also typically designed to make it easier to see the yellow tennis ball during the game.
Tennis Sunglasses Frame Quality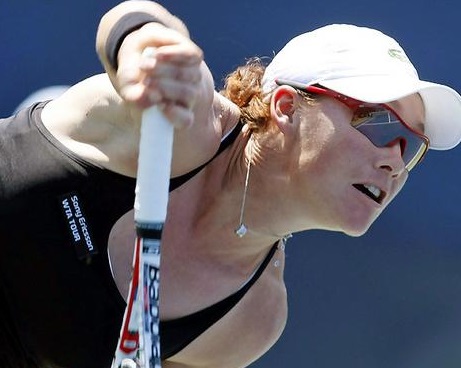 Tennis requires plenty of quick movements, unequaled hand-eye coordination, and fast decision making. This is why the best tennis sunglasses should be lightweight, perfectly fitted, durable, and impact resistant. The eyewear should be snug but not tight enough that it presses into your temples. If they are too loose, you may end up having a hard time as they bounce around on your face. Wrap around frames are a great choice because they will let you see a wide area and will not cover your peripheral vision. Choose frames with padded bridge points and temples to lessen the shock due to impact and prevent the eyewear from damaging your skin or sensitive part of the skin. Some tennis sunglasses also come with elastic sports band which ensures that the eyewear stays in place. The choice of regular temples or bands is up to your personal preference.
Also Read: Sports Eyewear FAQ: Myths VS. Facts
Best Lenses for Tennis Sunglasses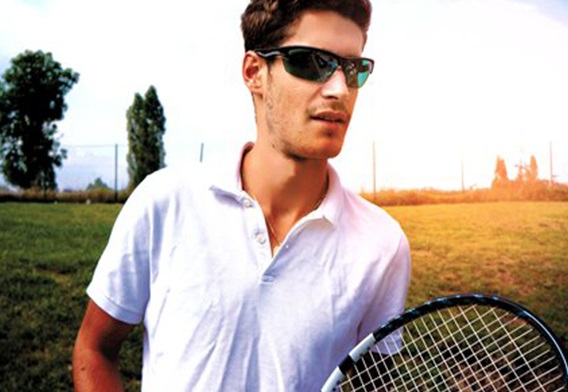 When it comes to lenses, you should consider the most durable material like polycarbonate or polyurethane. These materials are lightweight, scratch resistant, and virtually unbreakable. Choose an eyewear lens that comes with a 100% UV protection. Because you will be under the sun all throughout your game, the importance of UV protection is paramount. Prolong exposure to the sun may cause different health problems to the eyes including ocular tumors. Get a tennis sunglasses that can effectively reduce glare. Tennis requires that you will be able to see the ball and your opponent's movements at all times. Under the sun and the background, these two requirements may be difficult to meet. Choose light controlled tints like polarized
prescription sunglasses
which is efficient in reducing glare from reflective surfaces, like the tennis court. You should also consider anti-reflective coating to reduce reflections under bright light. Try to choose amber tint because it can help enhance the color of the tennis ball.
Check out our most recommended tennis sunglasses:
Rudy Project Rydon Flex comes with advanced quality material and unmatched design. This eyewear is engineered with carbonium frame which is a revolutionary aerospatial aluminum alloy, giving it an extremely lightweight feel. It also comes with amber/red lens which helps improve the color of the tennis ball.
Nike Show X2-Varsity-Orange Flash
This model delivers grip, style and comfort all the same time. It comes with the Nike Max Lens Technology, which allows you to see the ball clearly even during fast movements.
Liberty Sport TrailBlazer I
comes with a polycarbonate lens and plano frame that is scratch resistant. This eyewear is light and flexible at the same time. It also comes with the Removable MagTraxion™ magnetic eye cups help protect the eyes from the wind, dust, and debris. Finding the best tennis sunglasses is essential if you want to perform at your best during your game. When it comes to sports, you should always make a conscious effort to ensure eye protection at all times, by using a reliable and durable eyewear. Find solutions to all your eyewear needs at
Heavyglare Eyewear.