Ray-Ban is considered the top-selling brand of eyewear in the world. The company is also one of the oldest in the world serving eyewear enthusiasts the best designs for more than seven-and-a-half decades. Ray-Ban has been instrumental in merging some of the biggest influencers in the world of music, arts, fashion and entertainment. From James Dean, Michael Jackson, and Audrey Hepburn, Ray-Ban has proven to be indispensable for cultural icons.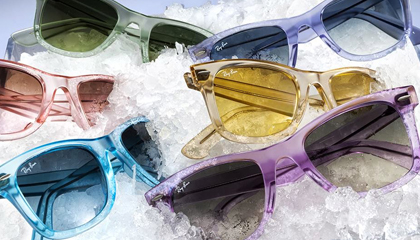 Excellence Through History
Ray-Ban became a world-wide name in 1937 when they created an anti-glare eyewear for US Air Force pilots. This original glasses featured a plastic frame with the now timeless aviator shape. The following year, the eyewear was remodeled with the thin wire frame and rebranded to become the Ray-Ban Aviator . Since then, Ray-Ban became a phenomenon around the world with their designs being copied by numerous other eyewear brands. Not long after, Ray-Ban became the choice of eyewear for anyone who loves outdoor activities. Soon after, Ray-Ban Shooter was launched inKalichrome lens , which helps sharpen details and minimizes haze. It is also famous because of the cigarette holder middle circle. As more and more customers now prefer Ray-Ban, the company released the Ray-Ban Outdoorsman , which was a model designed for those who are hunting, shooting, and fishing enthusiasts. Ray-Ban is continued to be the most reliable eyewear for many Air Force Pilots. The company placed a lot of emphasis on research and development and they are the first to introduce the innovation known as gradient mirror lens . These lenses feature a special coating on the upper part of the lens to enhance protection against glare, the lower portion is uncoated so that pilots can have a clear view of the plane s instrument panels. In the 1950 s Ray-Ban introduced the Wayfarer , a model which made plenty of impact because of Hollywood influence. It was the choice of eyewear for famous films like Rebel Without A Cause and Breakfast at Tiffany s. Since then the Wayfarer became one of the most recognized designs in the eyewear industry up to this day. Ray-Ban also released theSignet , a model that comes with an eye-catching gold or silver frame with horizontal bands near the nose bridge. It was also during these times, that Ray-Ban introduced some of its most well-known innovations like the G-15 gray lens . This is a neutral gray lens that gives true color vision for the wear. Finally, the company released the 4th metal frame style Ray-Ban Caravan during these years. Ray-Ban advanced its catalog in the late 1960 s with more than 30 different models including style made for men, women, and even children. Some of the most famous eyewear then were made by the company for example, Ray-Ban Olympian, Balorama, Meteor, and Ray-Ban Laramie. In the 1980s and 1990s, Ray-Ban Wayfarers and Aviators made a full comeback as it was featured in numerous films like The Blue s Brothers (1980) and Risky Business (1983). The movie Top Gun (1986) which top-billed Tom Cruise featured the Ray-Ban Aviators. Later, in the movie Malcolm X, Ray-Ban Clubmaster was also worn by the actor Denzel Washington. Many other movies also promoted Ray-Ban making it a household name. For example, Ray-Ban Predator was seen worn by Men in Black cast, Tommy Lee Jones and Will Smith.
Ray-Ban Unique Lenses
Other than creating some of the most memorable frames in history, Ray-Ban is also wide known for creating functional lenses that can keep your eyes protected no matter what time of the day. These lens are incorporated in some of the frames like Aviator and Wayfarers, this way you can choose the perfect lens and frames that will match the style and eye protection that you need. Some of the most famous lenses include: Classic Lenses like Green G-15 andBrown B-15 can absorb 85% of the visible light. It can also block out most of the blue light. These lenses ensure that you have the best visual clarity, remarkable color contrast, and provides a natural vision. In the meantime, brown lenses provide an amazing contrast in low light conditions. This type of lens gives you an amazing power to see clearly at all times. Gradient Lenses also comes in two types, including Crystal and Plastic. The crystal lens is tinted on the backside by adapting a high vacuum process. This allowed adhesion of different layers of oxides to the lenses to achieve the smoothest color transition. In the meantime, plastic Ray-Ban gradient lens is achieved a transition using precise chemical immersion process. Mirror coated lenses are achieved through an advanced technological process. It uses a superheated metal oxide that are fused to the lens. Mirror coating helps reduce glare and give you an extraordinary look. Ray-Ban also developed the limited edition Legend lens using a high quality crystal ensuring protection against UV rays. It delivers an amazing clarity of vision and remarkable color contrast. It also comes with various color and style combinations that you can pick. Ray-Ban polarized lenses provides an amazing coverage against glare. It can easily eliminate distracting glare and reflected light. It can ultimate remove any dangerous lights that may be reflected by water or other surfaces. Ray-Ban'sPhotochromic Lens respond to temperature and lighting conditions. This means that the lens will darken or lighten depending on the lighting that they are in. If it is overcast, then the sunglasses will be light. If it is sunny outside the lens will darken.
Amazing Tools and Technique
Ray-Ban sunglasses has always been popular since it was first introduced in the 1930 s by the American Company known as Bausch and Lomb. Ray-Ban also comes with other amazing technology like APX technology which focuses on creating high-grade and high-performing lens material. Ray-Ban is a brand known for its timeless design, quality, and top of the line technology. Ray-Ban prescription sunglasses is a global eyewear legend, known around the world. Using advanced technology, technique and high grade material, they are known to be a true eyewear icon.