Foam eyecups are awesome eyewear accessories. It provides the necessary eye protection that you need when you are on the go. In the United States, thousands of people are rushed to the emergency room because of eye injuries. Eye injuries can be caused by almost anything from construction debris to insects that may get into your eyes while you are outdoors. These injuries, however, could've been easily avoided with the use of the correct protective eyewear. This is why it is extremely important that those who are in an industry where dust, particles, and other eye hazards are common, wear protective eyewear.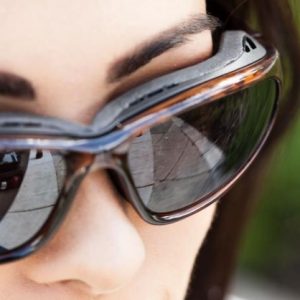 There are numerous brands which incorporate eye cups into their products. Most of these products are specially made for high-intensity activities such as motorcycle riding or biking. Some goggles also come with a foam eyecups. This feature is especially important in snow sports because flying snow can easily get into the eyes if it is not fully covered.
Types of Foam Eyecups
Different brands of eyewear have their own line of specialized eyecups made of foam. Foam is considered the best material. Foam is soft, meaning it will not cause damage or pressure on the soft skin around the eyes. In addition, foam can easily catch debris, dust, and other particles that may get into the eyes.
7eye's Airshield
is one of the most popular types of foam eyecups in the market today. It is made with soft-feeling closed cell foam. This is a hypoallergenic and medical grade product which conveniently includes filtered vents to effectively reduce fogging. 7eye has numerous models of eyewear that is released with the Airshield feature.Body Specs also have eyewear which includes the foam eyecups. This brand's eye cups include a soft closed cell foam with an extremely smooth texture. In addition, it also includes a flexible nose bridge, as well as, toggle adjustable head cord which allows a close fit and makes the eyewear effective for blocking debris like dust or pollen and retains moisture.
Airdam
is another collection from 7eye which features a medium thick eye cup made from closed-cell foam with a smooth texture. Compared to Airshield, models from this collection have firmer and less compressible eyecups. In addition, while Airshield eyecups can be replaced from time to time, Airdam is a fixed feature and does not need replacement.
Also Read: Prescription Goggle Inserts Guide - All You Need to Know
Advantages of Foam
Eyecups
It gives your eyes the total protection that it needs. It is highly effective in reducing the number of debris that may go into your eyes. This is a very useful feature for those who are constantly on the go while driving a convertible or perhaps a motorcycle.Get your
prescription sunglasses
and eyewear with foam eyecups today only on
Heavyglare
.
Disadvantages of Foam
Eyecups
Eyecups made of foam
can reduce your peripheral vision because it covers your eyes entirely. The actual full rim of your eyewear will seem to become even fuller. Another disadvantage is that it changes the appearance of your eyewear. Most foam eye cups are visible even from the front of the eyewear, so it is not the best eyewear to use for dates or interviews where you want to make a neat and clean impression.