When it comes to active sports, you need to make sure that you have the best visual clarity possible. Sports such as skiing, motocross, snowboarding, mountain biking, ballistic (paintball shooting) and many others will require the highest possible visual acuity. Wearing goggles for outdoor sports helps protects the eyes from the sun, as well as, debris. However, there are many instances when sports enthusiasts are unable to enjoy their sports because they require prescription lenses. Fortunately, there are now several advances when in sports eyewear manufacturing including
prescription goggle inserts
.
What Are Prescription Goggle Inserts
Prescription goggle inserts are specialized lenses which go neatly into protective goggles. It allows you to see clearly without sacrificing the protective quality of your eyewear. Different sports goggles may require a different prescription insert, for example, for insert, for example, for skiing or mountain biking. Typically, a prescription insert can be adjusted to fit your goggle of choice this is called a Universal Goggle RX Insert. It includes special fitting so that it sits perfectly within your goggles even during intense activities.
Also Read: Which Oakley Aviator Is the Best?
There are numerous advantages if you choose to use a prescription insert instead of using your regular eyeglasses under your goggles. Understanding these benefits will help you make the right choice and choose the best kind of support for when you are outdoors.Prescription goggle inserts are coated with a special anti-fog coating. Compared to regular eyeglasses which do not have this feature, prescription goggle inserts ensures that you can see clearly throughout the day. This is crucial, especially if you are using goggles for skiing, snowboarding, or whenever you are in a foggy environment like in off-road mountain biking or ATV rides. Unlike regular eyeglasses, prescription inserts do not sit near your face, which adds to the formation of fog.Prescription goggle inserts usually sit near the shield of the goggles where ventilation is at its optimum, reducing fog effectively. Compared to eyeglasses, you do not have to worry about temple pressure when you wear regular eyeglasses. Pressure from your eyewear's temple may cause discomfort when performing your favorite sports. In comparison to regular
prescription sunglasses
, eyeglasses, prescription goggle inserts are much safer to use. You do not have to worry about breaking or losing your eyeglasses even after falls. Another great benefit in using prescription inserts is that it is easy to clean. You can easily put it on or take it out for cleaning.Finally, compared to getting shield lenses with prescription, prescription goggle insert lenses are inexpensive and durable. You can choose the kind of lenses that you prefer without sacrificing the quality or emptying out your wallet. Check out
Heavyglare's Universal RX Insert
, it is affordable and fits most models of goggles.
How Do Prescription Goggle Inserts Work?
Prescription Goggle Inserts are known as one of the best advancements in the sports goggles design. It can easily fit in your choice of protective eyewear. It allows those who need a prescription lens to clearly see what is ahead. The best thing about this option is that you do not have to sacrifice the quality of shield lenses that you want. If you prefer polarized, mirrored, or photochromic lenses, you do not have to worry about the inability to see clearly.Some ski and snowboarding goggles come with their own RX inserts. However, there are also prescription inserts which can fit in almost all brands and models. This is a great choice if you need to change from one model or another depending on light or weather condition. Your lens is fitted into the insert and is treated with anti-fog coating. The prescription goggle insert can be fitted securely inside the goggles, with the insert itself in a clear rim material you do not have to worry about your view getting obstructed. The insert is typically partially hidden behind a light lens and completely hidden in mirrored lenses.Typically, you need to insert the bottom part of the prescription inserts first. You will need to apply a little pressure to snap the top part in. This type of mechanism ensures that the inserts does not go out of place even when you are doing plenty of movements. The inserts also include springy tabs which you need to push down when inserting the lens.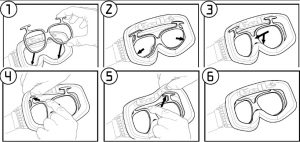 Prescription Goggle Inserts for Skiing and Snowboarding Goggles
When it comes to skiing gear, one of the most important pieces to consider are safety goggles. After all, skiing requires that you are able to see clearly what is ahead of you and the horizon. If you normally wear prescription lenses or contacts, you will improve your vision by using inserts in your goggles. Most eye injuries that occur from snowboarding or skiing happen because of a bad choice or by not wearing their eyewear at all.If you take a fall and you are wearing improper eyewear, it may easily break under the impact. In addition, if you are not wearing an eyewear at all, debris can easily enter your eyes. Additionally, by not wearing protective sunglasses, it may cause ultraviolet rays to cause damage to your eyes.
Choosing A Good Ski and Snowboarding Goggles Insert
Nowadays, the quality of ski and snowboard goggles has changed exponentially. Thanks to various advances in technology, you can get a special ski or snowboarding goggles that fits your needs accordingly. However, as there are now plenty of choices, ski enthusiasts are faced with the task of choosing the perfect ski goggles.
Ski and snowboarding goggles come in many different types. You can choose among interchangeable or fixed lenses, mirrored, photochromic, and many other important factors. Another thing to consider is the need for prescription lenses, many skiers are unable to completely enjoy the sport because they need RX lenses to see clearly.
Good UV Protection
When choosing protective goggles, one of the first things to consider is the UV protection that the lenses provide. In addition to premature aging, UV rays have been proven to cause a myriad of eye diseases. Some of the most common effects of long-term UV rays exposure are damage to the cornea which can progress to problems like cataracts and macular degeneration. During skiing or snowboarding you are exposed to a vast expanse of snow, unfortunately, UV rays can easily bounce off snow even during cloudy days. Furthermore, the effect of UV increases as the altitude increases. This is why UV protection is always one of the utmost considerations when buying a ski or snowboarding goggles.
The Correct Type of Lenses
Skiing and snowboarding require special lenses which are impact resistant and extremely durable. Polycarbonate lenses are considered one of the safest lenses in the industry, which is why it is the most common type of shield used on skiing and snowboarding goggles. In addition, polycarbonate material is also lightweight and highly resistant to fogging compared to any other materials. Finally, the material can naturally absorb the UV rays of the sun. This means even clear lenses can provide 100% UV protection.Polarized lenses provide advantages and disadvantages to a skier or snowboarder. They are effective in reducing glare which is extremely helpful in the snow. Polarized lenses can absorb as much as 98% of the glare that is reflected from the snow. However, there are times when skiers or snowboarders are unable to distinguish snow from patches of ice because of the visibility that polarized lenses provide.Mirror Coatings are reliable in conditions when you may need light reduction. They can effectively cut some glare but not all of it, however, it will allow you to see clearly and recognize ice from snow. Mirror coating with double gradient metalized is best for snow sports. Finally, you can also add an anti-reflective coating to let you see clearly all day.
Anti-Fog Features
Fog is quite common in snow sports like skiing and snowboarding because of condensation. Always choose goggles with anti-fog coat and wide vents in the lens to prevent such problem.
Prescription Inserts
One of the most important things to look into especially if you need to use prescription lenses are the availability of inserts. Nowadays, most trusted eyewear brands use prescription lenses.
Smith Goggles Smith is one of the top choices when it comes to prescription ski/snowboarding goggles. It includes an anti-fog and superior optical technology. Some of the most recommended models include Smith Cascade and Smith Prophecy Turbo .
Rudy Project Rudy Project is another one of the most famous sports eyewear brands in the world. It utilizes state of the art technology to create functional and durable eyewear. Rudy Project Klonyx and its specialized RX insert are one of the most recommended.
Leader Sports is another best-recommended skiing and snowboarding goggles. It provides excellent choices with matching RX ready inserts that will make our outdoor sports even more exciting. Most recommended are Leader Mogul and Leader Downhill .
Oakley Oakley is another world leader in sports eyewear. The company is known for creating innovative and functional eyewear for almost any outdoor sports. Oakley Airbrake is the best example of a snow sports goggle where you can easily use prescription lenses inserts.
Dragon Alliance Goggles Dragon Alliance is one of the few independent sports eyewear maker in the world. One of the factors why sports enthusiast loves this brand is that it is designed by sports enthusiasts themselves. Goggles from Dragon Alliance such as Dragon DX , Dragon D1 , and Dragon X2 can easily be fitted with RX inserts.
Spy Optics Spy Optics is another famous and well-loved brand for ski and snowboarding goggles. Aside from the ultimate ventilation system available, Spy Optics also offers a unique and elegant style. Most Spy Optics Ski and Snowboarding goggles can easily be inserted with universal RX inserts. Some of the bestsellers from Spy Optic includes Spy Comet , Spy Optic Platoon , and Spy Optic Raider .
Prescription Inserts for
MotorCross, Mountain Biking, and Other Outdoor Activities
Plenty of outdoor activities including motorcross and mountain biking will be much better if you use protective eyewear. It provides your eyes with protection from dust or debris, as well as, from the sun's glare. There are plenty of sports eyewear to choose from, however, if you need prescription lenses you may be looking at a highly expensive specialized lens. Fortunately, there are now special sunglasses which can accommodate special rx inserts.According to the American Academy of Opthalmology, tens of thousands of people get eye injuries do to sports every year. However, these injuries could have been easily prevented with the help of a protective eyewear. The risk of injury is dependent on the kind of activity done. Sports like basketball, baseball, and hockey are some of the most common. The good news is, these injuries can easily be prevented with the help of protective eyewear.Many athletes and sports lovers do not prefer using protective eyewear because of many reasons. Those who need prescription lenses find it hard and expensive to have their favorite piece of protective eyewear fitted with prescription lenses. Thankfully, plenty of protective eyewear now comes with RX inserts. Goggles are a perfect choice of protective eyewear if you need a secure fit at all times. Goggles are the choice of eyewear of a number of high risk activities including motorcross, motorcycle riding, BMX, tactical, mountain biking, and off road activities.Take a look at some of the most recommended goggles for outdoor activities:
Bobster Bravo 2
Bobster is a highly specialized eyewear made for motorcycle riders or those who enjoy sports shooting (ballistic). Some of their most loved eyewear provides eye protection even when you are required to do plenty of movements. To cater to customers who have prescription lens needs, Bobster Bravo 2 comes with a fully functional RX insert.
Birdz Mallard Goggles
This eyewear is best for those who want to protect their eyes against the wind while riding their motorcycles. It comes with an optional temples and strap, so you can easily interchange depending on your mood. Finally, it also comes with an adjustable frame rx insert, which you can use to fit your prescription lenses.
Bobster Cruiser Goggles
this goggles is ideal for riding, sky-diving, and other outdoor activities which may require good eye protection. It comes with open cell foam which provides comfort and creates a sealed fit over your eyes. Finally, you can easily fit a RX prescription lens, so you can have a clear and full view in front of you no matter what your activity is.
Bobster DZL
is a unique photochromic motorcycle goggles. The photochromic lenses allow you to see clearly no matter what the light or weather condition is.
Bobster MX 1 Basic
this model is for off road activities such as mountain biking or if you love to spend outdoors using off road vehicles activities. Bobster MX1 Basic comes with polycarbonate lenses which are also fog resistant. The frame is not RX ready, so using an RX insert instead will be a great option.
Tips When Choosing A Prescription Goggle Insert
Many eyewear brands like Smith Optics create their own proprietary RX goggle insert. However, you can also find universal prescription goggle inserts which can fit almost any brands of eyewear including famous manufacturers like Oakley, Dragon, and Spy Optics.One of the most important things to consider is the right fit. Check out what kind of RX insert will fit into your goggles. Ill-fitting inserts will mean it may get out of place during intense movements.Another important factor to consider is the shape of the RX inserts. RX inserts come in at least 3 shapes, which may have an overall effect on your vision, depending on what you prefer. The most common are the Ant shape insert, with long arms above and short arms under the lens. The Ram Horn insert comes with a long ram from the top going almost around the lenses. Finally, there is the Silver Dollar insert which comes with two T arms on top of each lens.Anti-Fog Treatment for goggles is also important. Goggles can easily accumulate fog because of the shape of the frame and the lens. While most goggles shield (lens) typically comes with an anti-fog coating, your insert should also have a similar coat. Your insert may accumulate fog faster because it sits closer to your face. Having an anti-fog coat means you never have to worry about poor visibility while enjoying your favorite sports.When it comes to goggles, it is great to know that sports lovers will never have to worry about prescription lens again. RX inserts provide a functional and inexpensive option for those who need additional vision support. RX inserts can help you see clearly even when you need special kind of prescription lenses. The best thing about this product is that it is inexpensive and can easily fit in almost any goggle size and shape. Whether for snow sports or any other outdoor activities, RX inserts are the best tool for an enjoyable and safe day.