Cocoons are regarded to be the best when it comes to providing durable and reliable fitovers for prescription eyewear. Cocoons fitovers eyewear are pro-grade sunglasses that are built to provide satisfaction. This brand offers a wide range of styles and sizes for both lenses and frames.
Quality Fitovers
Cocoons offer their proprietary lens that comes in a variety of tints including specialty low vision lens and mirror systems. They offer smart designs paired with state-of-art engineering, high-grade materials, and a wide range of patented features. All of these come together to help this brand claim the top spot when it comes to providing Professional Grade Fitovers. A lot of Cocoons' competitors have tried to imitate their iconic designs and structure; however, no other brand has even come close to delivering the comfort, quality, and performance that this brand offer. Knowing the authenticity of your eyewear is very easy to determine. You should see the Cocoons authenticity medallion countersunk in the frame.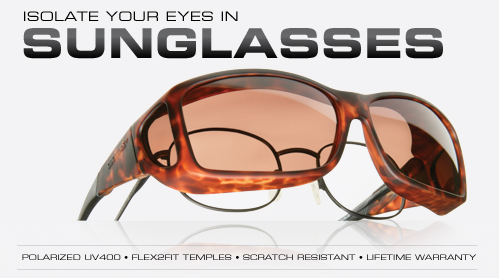 Cocoon's Award-Winning Features
Here are some of the things that everyone needs to know about Cocoon's award-winning design and quality:
Cocoons Frame Technology - The frames on the Cocoons fitovers are engineered in a way that it would fit the needs of its users. They can comfortably fit on most prescription sunglasses without sacrificing the quality of vision that the users need. Of course, Cocoons are built to last the most extreme condition making them not only light but durable as well. On top of these great features, Cocoons through in a famous lifetime warranty.
360 UV Protection - Cocoons have separated their frames from the rest by blocking light that comes from different angles. Though the lens filters the UV rays, Cocoons frames help out in blocking harmful UV rays that can't be filtered by ordinary fitovers giving your eyes the best possible protection and visual range at the same time.
Flex2Fit Temples - Cocoons fitover sunglasses has flexible earpieces that allow you to shape them according to your liking. You will not need any tools for this. All you need to do is manually shape it to your satisfaction.
Proprietary Polar lens system - These lenses help filter 100% of the harmful UVB and UVA and at the same time provide quality and optical grade visual quality. The Polar lens system comes in a variety of colors depending on your needs.
By enabling these features, Cocoons stands on top of the competition. As the pioneer when it comes to the fitover sunglass category, Cocoons contemporary features and exceptional components set the standard in quality, performance, and comfort. Check out some of Cocoon's best designs only on heavyglare.com .