Finding a good shooting eyewear lenses is not impossible, especially with the huge number of choices that you can get these days. Accurate shootings start and ends with how good you can focus and how good your vision is. After all, you can only hit what your eyes can clearly see. However, your love for shooting will not last long if you do not use a good and reliable eyewear protection lenses every time you go on hunting or firing ranges. In a research released by the National Health Institute, more than a million people suffer from eye injuries every year. At least 30,000 of these are known to incur firearms related eye injuries each year, including paintball shooting sports. Quality eye protection is extremely important for this kind of sport. And it does not have to be expensive. You should find something that is comfortable and durable using prescription sunglasses . Consider features like frames and lenses to ensure your eyes are protected at all times. Now you can choose your best shooting eyewear brands.
Why Protective Eyewear is Important
Eye protection is essential for anyone who is using a firearm, whether at a shooting range, during hunting in the forest or the field. All kinds of firearms give a certain amount of recoil. In addition, many shooting activities typically happen outdoors where the sun, the wind, and other elements can lead to numerous vision and eye problem. ( Recommended shooting eyewear during hunting in the forest or field. ) Shotguns and many kinds of rifles are held on the shoulder, while handguns are no more than an arms-length away when used. Different shooting activities occur very closely to the face, which means you should always take extreme caution to shield your face especially your eyes from harm. Eye protection with reliable shooting lenses is required during organized matches or while shooting on a range. Some ranges will allow their shooters to use their choice of eyewear but sometimes there are shooting ranges which allow only quality eyewear (durable shooting eyewear) that passed standard requirements.
Basic Guideline When Choosing Shooting Eyewear and Lenses
Using proper eye protection is a must for all kind of shooting sports. No matter what kind of shooting you are into, you should always wear eye protection. There is a wide variety of shapes and styles of eyewear available. However, one of the first things that you need to consider is the quality of lenses that you should provide ANSI Z87.1 safety standard impact protection (using good shooting lenses). Many shooters still use regular or ordinary eyewear during shooting, but this is considered unwise. Many ordinary glasses come with non-tempered glass lenses and can easily shatter on impact. Cheap plastic lenses are also not impact-resistant which may break into dangerous sharp-edged pieces should it be hit by projectiles.
Wrap-Around Shooting Glasses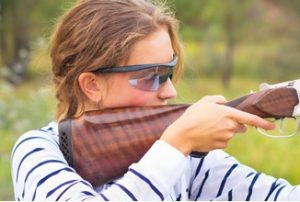 Wrap-Around shooting eyewear is important if you want your protective eyewear to stay in place and give your eyes total protection. Wrap-around shooting eyewear is one of the most recommended because it provides complete protection from the bridge to the sides of the eyes. In fact, many sports eyewear are made with a wrap-around because they are the most preferred by athletes. Wrap-around glasses are characterized by semi-circular frames that come with a curve around the head for a panoramic-type view. Wrap-around frames often convey a sporty and masculine look. Athletes prefer the wide lens of vision created by the added lens width for wrap-around eyewear which is highly essential when performing sports.
Wiley X Talon
Talon is an advanced protective eyewear from Wiley X which received the US Army Authorized Product Eyewear List (APEL). Those who are looking for a wrap-around shooting or ballistic eyewear will love this product from Wiley X. It ensures comfort, protection, and support all at the same time. Wiley X Talon offers a semi-rimless frame, allowing you maximum visual scope. The lenses are also specially created to provide lateral coverage, meaning your eyes are perfectly covered all around but can still see from almost all sides.
7eye by Panoptx Bali
Bali comes with a 7eye exclusive AirShield that creates an ideal environment for the eyes. It comes with a polarized lens, so glare is significantly reduced while you enjoy your shooting activity. Bali also comes with a non-air-permeable shield with a fast dry fabric which keeps away moisture.
ANSI Z87.1+
ANSI stands for American National Standards Institute. It is a private non-profit organization who oversees the development of a voluntary consensus of various standards of products, services, personnel, processes, and systems in the United States. They are the primary organization who fosters the development of technology standards in the US. ANSI works with various industries and companies in the US to ensure that standard quality is always met. ANSI Z87.1 prescribes the design, performance specification, as well as, marking of safety eye and face products. It sets forth criteria that are related to the general requirements, permanent making, selection, testing, care, and use of eye protection to prevent or minimize injuries due to eye hazards. These safety measures set forth by the standard to ensure protection for workers in a variety of field and athletes for various sports.
The latest is the 2015 standard which reflects improvements, refinements, updates, and tweaks from the 2010 version. This introduced a new way to organize equipment and hazards. The latest update on to this ANSI Z87.1 standard continues to reflect the importance of choosing protection based products. OSHA and Military Grade OSHA standard means the eyewear passed the Occupational Safety and Health Standards. OSHA is a government agency in the United States whose primary job is to ensure safety and protection for every US worker. In the meantime, Ballistic and Military grade eyewear are those that passed rigorous testing from US military
Eye Protection Marking
Z87.1 standard is harmonized with face and eye protection standard that is used in many other countries. An eyewear with an ANSI Z87.1 marking means the product are proven to have the ability to defend the eyes against specific hazards. Additional markings on the product means it falls into three categories: Impact vs. Non-Impact ANSI Z87.1 classifies that the product can provide eye protection as impact or non-impact rated. Impact-rated eye protection must pass certain high mass and high-velocity tests, as well as, provide eye protection from the side. Impact-rated eye protection will have the plus symbol (+), for example, ANSI Z87.1+ can be clearly seen. Chemical Splash and Dust Protection Eyewear that comes with ANSI Z87.1 that met droplet (splash) or dust protection will be marked with a code which begins with the letter D . For example, eyewear which that protects from droplets and splashes are marked with D3 , eyewear that comes with dust protection comes with D4 , and eyewear that provides fine dust protection comes with D5 . Optical Radiation Protection is a marking given depending on the lenses ability to protect the eyes against radiation that is indicated by a letter designation and followed by a rating number.
Welding Filter: W followed by a shade number on a scale from 1.3 to 14.
Infra-red (Heat) Filter: R followed by a number on a scale from 1.3 to 10.
Visible Light (Glare) Filter: L followed by a number on a scale from 1.3 to 10.
Ultra-violet (UV) Filter: U followed by a number on a scale from 2 to 6.
Clear lens: No additional marking
Variable tint: V
Special purpose: S
If you are a decot shooting shooting enthusiast, you must make sure that you purchase an eyewear that is ANSI Z87.1+ compliant. Gargoyles Novus This is an iconic rimless protective eyewear which incorporates cutting edge innovation, function, and advance materials. It is lightweight and robust, meeting the all ANSI Z87.1+ standard requirements. It comes with an anti-reflective and oleophobic treatments which can repel water, resist smudges, scratch proof, and easy to clean. The Novus comes with wide lenses for a full unobstructed vertical view. Gargoyles Novus is a ballistic-rated lenses, impact resistant, and extremely durable for whatever shooting activities you have in mind. Tifosi Optics Ordinance Tactical Provides an amazing optical support, protection, and visual clarity when hunting or shooting. This is a tactical eyewear that is safety rated with ANSI Z87.1 standard. It is made with Grilamid TR90NZ , a homopolyamide nylon characterized by an extremely high alternative strength. It also comes with low density, high resistance to chemicals and UV rays, napier shooting glasses.
Adjustable Options
Try looking for a shooting eyewear that comes with an adjustable frame or strap option. The ability to change the fit of the nose, as well as, the pads, bridges and the strap or frame can help you along the way in ensuring you have a comfortable eyewear. During shooting or hunting, you want to be as comfortable as possible. You also need to be able to have a wide visual scope. Cocoons Polarized (Style Line MX) Is a polarized eyewear from Cocoons made of nylon. This is a full rim nylon fit over for men and women. It allows a secure and comfortable fit that fits any face perfectly.
Foam Padding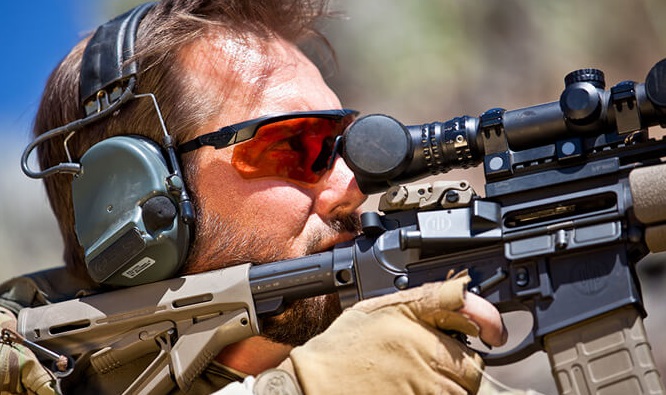 Foam padding for your shooting eyewear is extremely helpful if you are worried about sweat, rain, or other wet debris getting into your eyes. Nevertheless, the most important reason why foam padding is useful is to protect the eyes and surrounding area in case the gun or rifle recoils too far.If you want to know more about best prescription shooting glasses then check bellow.
Wiley X Goggles Wiley X SG-1
When it comes to ballistic eyewear, no other brand is more concerned about quality and support than Wiley X. Wiley X SG-1 comes with a pending patented special technology which serves two functions in one eyewear. It converts fashionable sunglasses into a low profile goggle. The ballistic lenses can easily be changed in seconds depending on the weather or activity. The temples can be detached with a simple touch of a button and replaced with an elastic band in a snap. It also comes with a protective foam for added protection.
Body Specs Goggles Body Specs BSG-2 Black 3 Lens Set
is a known military glasses which provides the ultimate protection for the wearer. Body Specs Goggles (BSG) is compliant with safety and standard in ballistic, perfect for those who love to spend time shooting or hunting. It also comes with a foam for an added comfort and protection.
Anti-Fog Technology
Fog is a common problem especially if you have to be outside for hunting. Fog can happen at any time when you are outdoors and sometimes there is no going back to change lenses when you are already in the middle of your hunt or shooting adventure. This is why there are many shooting eyewear brands (radians shooting glasses) which ensures that the lenses are coated with special anti-fog feature. In the past, anti-fog coating needs to be re-done from time to time. These days, there already permanent anti fog coating which is used for numerous protective and shooting eyewear. With the help of anti-fog coating, your lenses and vision stay clear even when you transition from a warm to a cold environment. Lenses can also fog up when you are doing activities that may let you perspire. Lens fogging is usually caused by tiny water droplets which form through condensation on the surface of your lenses when the lenses are cooler than the surrounding air. Fogging can hamper your performance and will not let you see clearly. Body Specs Slings Tm Shooting Glasses This model is one of the new shooting glasses from Body Specs. This model is one of the Lab Certified Ballistic and Safety rated. It comes with an anti-fog treatment so you will be able to see clearly no matter what your activity is. Rudy Project Rydon Shooting Kit Rudy Project is one of the most trusted names in sports eyewear technology. They have been successful in creating some of the most functional eyewear for almost any kind of sports. The Rudy Project Rydon Shooting Kit is a great pick for those who love to spend their weekend on sports shooting or hunt. It comes with a seamless design and advance technology which uses an amazing array of materials making it lightweight and versatile.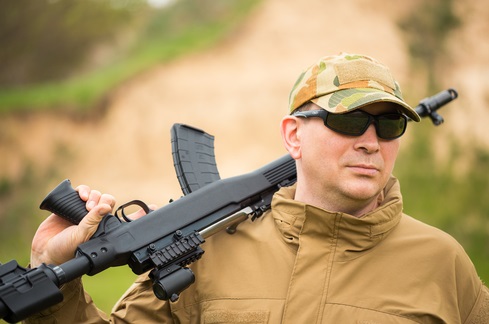 Materials When it comes to the lenses, it is important that you consider durability. One of the most reliable material are polycarbonate, Trivex, and SR-91. Polycarbonate is a kind of high-grade material, usually made of thermoplastic polymer. It is strong and light making it a great material for the lenses. It is also shatter resistant which makes it a good material for shooting. Finally, polycarbonate is scratch proof and can easily be added with other coatings. Trivex is a light and durable lens material. This was first developed for military applications. Trivex is stronger, lighter, and clearer than polycarbonate. It is preferred for various sports because it can minimize distortion. Trivex is also known to minimize glare and UV rays of the sun. SR-91 is a new proprietary material from Kaenon. SR-91 uses a combination of the highest optical quality of the finest, lightest, and most durable glass lenses. It is impact resistant which can be a better choice than polycarbonate lenses. Kaenon S-Kore this is a thin, sleek, and unique eyewear which is one of the latest addition to Kaenon s award winning Kore Performance Technology. It comes with a half-rim frame and with the extremely durable SR-91. This eyewear is ideal for those who are looking for a lightweight, secure fit, and durable shooting eyewear. S-Kore also comes with a Never Compromising SR-91 polarized lenses. You can also choose from a variety of tints and light transmission level ensuring that your visual needs are supported.
Lens Colors What are the Best
Shooting eyewear and lenses are available in a myriad of colors. From polarized to mirrored lenses, as well as, gradient tints. While you can always choose a tint that will suit your visual needs many shooting professionals recommend using yellow and similar tints. Yellow and similar tint lenses like Vermillion and orange heighten contrast especially in foggy and hazy weather conditions. Yellow tints are also extremely good in filtering out blue light which may be present during hunts or shooting. Brownish tints are also extremely good for use during cloudy days. Because it enhances contrast and depth perception. Randolph Engineering Ranger Falcon Pro Kit with Cable Temple One of the most recommended shooting eyewear anywhere is from Randolph Engineering. It can support your eyes and allow you to see your target better with a remarkably clear visual acuity. Falcon Pro from Randolph Engineering offers a clear and crisp view of your surroundings. By using advanced eyewear technology, it filters out blue light to give you a clear view of your target. Randolph Engineering also comes with numerous other shooting eyeglasses which you can consider. This brand is a top choice for many professional shooters around the world. When it comes to shooting eyewear, never sacrifice the quality with look. Handling guns, rifles, and shooting gadgets can be extremely dangerous to the eyes and protection should be the utmost importance.