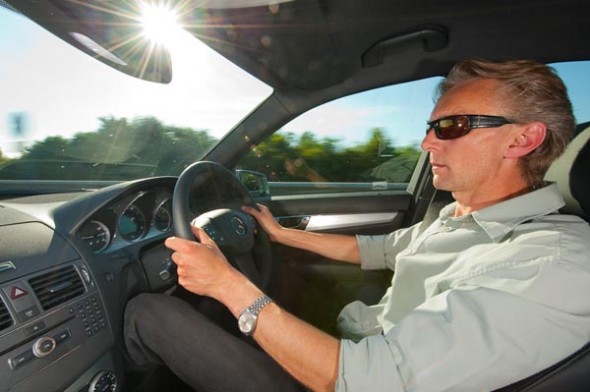 Extreme brightness and reflections can be dangerous when driving. These things can cause impaired visibility during your drive. This is why it is important to use a driving eyewear to help protect and support your vision. Prescription Sunglasses are great for protecting your eyes against bright glare while driving. Visibility is improved and will help keep you and everyone on the road safe. According to the world health organization, visibility plays a huge factor in the risk of road accidents around the world. Most of the time, weather conditions play a huge role, however, harsh natural or man-made lighting can also be a factor in many accidents. Reduced visibility is a factor in many accidents. Glare is extremely common during dusk when the angle of the sun can be harsh and many temporarily blind drivers. Glare can even be present at night when manmade lighting (such in a construction zone) can also cause blinding light. Driving with open windows exposes your eyes to dust, debris, and dry wind. Avoid these distractions. This blog will help you with choosing the right kind of driving eyewear.
Driving Eyewear Tip 1: Choosing A Good Frame
These days there are plenty of frames to choose from to make your driving easier and safer. When choosing a driving eyewear frame, it is crucial to make sure that the frame you choose does not compromise your peripheral vision. Hazards and signs can easily be missed when you don't have an open view. As a result, covered sides can increase the risk of accidents. For this reason must using night vision goggles for driving.
Aviator Frames
Aviator eyewear frames is a popular choice for many drivers because it comes with a flat profile and thin arms. The thin metal frames and temples offers a wide visual acuity and does not cover your peripheral view.
Also Read: The 5 Most Common Workplace Eye Injuries
Recommended Models
Ray-Ban Aviator Carbon Fibre Carbon Fibre is one of the newest innovations from Ray-Ban Aviators. Ray-Ban is the original designer of the Aviator, so you can trust that this is made with quality research and technique. The brand is a global leader in the eyewear industry with hundreds of designs in its collections. Ray-Ban Aviator Carbon Fibre is extremely lightweight with scratch resistant photochromic lenses and thin durable metal temples. It comes in three tints for the lenses including polarized green, brown gradient, and gradient dark gray. It is one of the best prescription glasses for driving. Randolph Engineering Aviator Randolph Engineering made its brand a household name when it created a series of military grade shooting eyewear. It is one of the most trusted brands in the eyewear industry when it comes to durability and style. Randolph Engineering's Aviator is a perfect choice for leisurely afternoon driving. It is the top choice for many drivers because of its lightweight design. Serengeti Amboy Serengeti is a famous brand in the eyewear industry. All Serengeti eyewear comes with the latest photochromic lenses, which is an advantage if you will be using this Serengeti eyewear while driving. Latest photochromic lenses automatically adjust depending on the kind of light that it is exposed to. This makes it perfect to use especially for all day driving and if you are not sure of the weather conditions. Kaenon Montecito Kaenon is one of the rising stars when it comes to sports eyewear. This brand is slowly getting recognition because of the advanced technology that it uses for their eyewear. Kaenon Montecito offers a smooth and rounded corners. It also comes with a polarized lens which is extremely effective in reducing the amount of glare that comes into the eyes. This model is extremely good choice for driving.

Wrap Around Frame
Other drivers also prefer a wrap-around frame because it provides complete coverage and protection from glare. Whenퟀ driving with the sun to your left or right side your peripheral vision is still completely covered.
Recommended Models
Serengeti Pisa-Shiny Tortiose-Polarized Drivers This eyewear offers the ultimate protection and support against various lighting conditions which causes eyestrain and fatigue. This comes with an wrap-around eyewear design, so the sides of the face is completely covered. Gargoyle eyewear is one of the sought after brands when it comes to durability and quality. Got road rage? We have the terminator glasses that were worn by Arnold Schwarzenegger. The Gargoyles Classic offers a wrap-around style frame with thin arms giving your eyes full view of what is around you. It is also lightweight and functional giving you full wrap protection and a classic look that is distinctive.
Lens Color
The color of the lenses directly affects the way you perceive things in front of you while driving. In addition, they help you see better depending on the kind of light you have (weather conditions also matter). How well a person sees certain colors and the degree of visual contrast can easily change depending on the color of the lenses. Choosing the wrong color lenses can negatively or positively affect how well you will be able to see road signs, traffic lights, oncoming car lights, and spot potential hazards along the way. Scientific research shows that blue, pink, and green lenses should not be used while driving since they can easily make red lights indistinguishable. However, there are specific sunglasses with this lens hue which are labelled as safe for driving, so this is an exception. The intensity of the hues will also make a difference while driving. The best lenses for driving eyewear are those with gray and brown hues. These are neutral colors, so they do not alter the colors that your eyes naturally see. Many sunglasses are designed specifically for drivers that feature yellow and amber colored lenses, which is helpful in creating contrast and definition.
Recommended Models
Rudy Project Skytrail - Rudy Project is another well-known eyewear brand and is preferred by thousands of athletes and driving enthusiasts around the world. Skytrail is inspired from the classic aviator sunglasses, the new Skytrail blends elegance and performance. The stylish metal frame combines adjustable rubber temple tips and nose-pads for unparalleled comfort even during intense activity. The soft bumpers on the lower part of the lenses and on the bridge provide enhanced safety while bringing a touch of distinctive personality. Serengeti Agostino - Put the volume up and let AGOSTINO drive you to unseen places. New addition to the Serengeti® Classic Metal Series, this double bridge model distinguishes itself with a very modern flat design and an eye-catching shape. Using Serengeti's cutting edge technology, this eyewear will provide the ultimate protection and coverage at the same time.
Polarization Adds Protection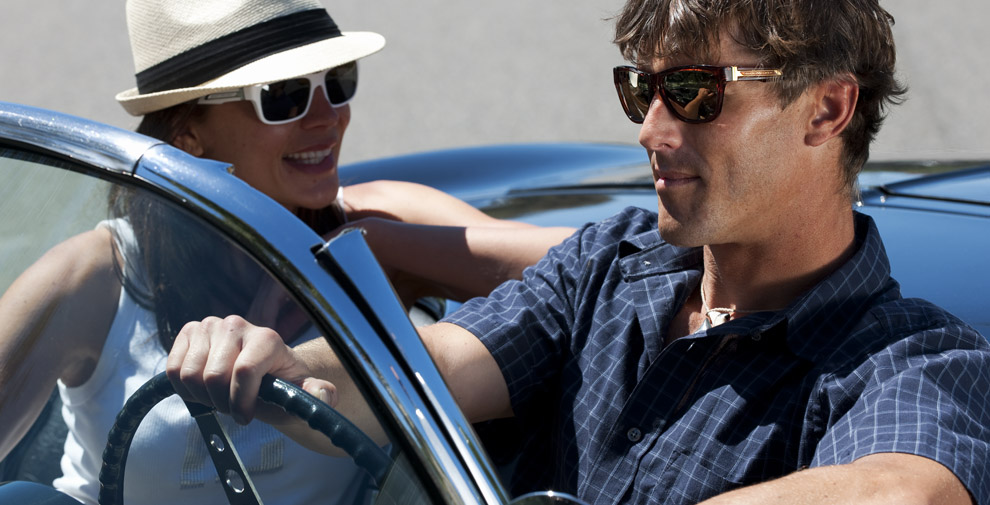 Adding a polarized coating is another good choice for your driving eyewear. Polarized lenses is extremely effective in blocking out light rays which may normally enter your eyes. The rays of the sun usually reflect in every direction once it hits a flat surface. The reflected light that will shine back to your eyes and is magnified with glare. Reflections whether from the flat road, metal surface, or water ahead can easily pose additional risk for drivers while driving their car. This reflected light is sent to one direction and causes glare. With the help of polarization horizontal lights will no longer be able to penetrate the lenses meaning glare is reduced significantly. This will allow you to see oncoming traffic clearly, improves contrasts, and your perception of colors.
Recommended Models
Ray-Ban RB3386 Ray-Ban RB3386 features an oversized Aviator inspiration, modeled with a retro yet sporty sunglasses look. RB3386 sunglasses join the Active sunglasses family with their wrapped frame allowing for full coverage and a secure fit. This Aviator interpretation features similar pilot lenses, but with a slightly softer contour that makes these sunglasses more feminine. RB3386 sunglasses are perfect for an on the go active lifestyle and flatter all face shapes, making this interpretation completely unique. Wear RB3386 sunglasses in a variety of frame colors and polarized lens options. Carrera Hurons The Carrera Huron sunglasses are extremely lightweight and durable at the same time. It comes with a wide bridge to ensure comfortable fit. The lenses are coated with polarized tint which helps protect the eyes from glare.

Photochromic Lenses
Photochromic lenses are eyewear that are clear indoors and automatically darken when outside or when exposed to sunlight. Other terms used for this type of lenses are variable lenses and light adaptive lenses. Photochromic lenses are made composed of molecules which darken or get activated by the sunퟀ s ultraviolet rays. Since UV rays penetrate clouds, photochromic lenses still darken even with an overcast sky. Inside a vehicle, photochromic lenses do not darken because most windshield are treated with glass that blocks UV rays. Recent development in the photochromic technology allows lenses to darken with UV rays or visible light. Photochromic sunglasses are especially helpful as driving eyewear. Designers made these to help eyes adapt to changing light conditions when worn inside a vehicle. They haveퟀ proven to help enhance contrast and improve visual performance.
Recommended Models
7eye Marin The 7eye Marin comes with a lightweight frame that fits perfectly for driving duties. It also comes with numerous lens choices including a photochromic day and night contrast to ensure maximum support. Serengeti Carrara This model is Serengeti's take on the famous Aviators. It comes with a double bridge, thin, full-frame design reminiscent of the first ever Aviators of the 1930s. The lenses come with an advance technology photochromic tint which can help drivers see clearly no matter what the weather condition is. Rudy Project Keyblade Keyblade reshapes the concept of comfort in the sports eyewear combining our unique Vent Controller System to efficiently manage airflow, the enhanced Vertical Power Flow ventilation system with its nicely detailed exhaust ports scientifically integrated within the upper chassis, the adjustable temple tips and nose-pads. The Keyblade slim design allows a perfect fit for women and smaller heads and is fully RX able. Great for the convertible!
Graduated Lenses
Many eyewear feature graduated lenses which are darker on the top that filter out bright sunlight. It is also lighter on the bottom to allow you to see panels better. While this feature is helpful, they can't reducing glare from road or water surfaces.

Prescription Driving Lenses
Another major consideration for drivers when looking for a driving eyewear are prescription needs. Many drivers find it hard to drive without their prescription eyeglasses. Those who suffer from nearsightedness, farsightedness, and astigmatism need special eyewear in order to drive. For nearsighted people things in the distance look blurry. Farsighted people, on the other hand, will have a hard time seeing near objects. The problem is not all eyewear comes with a prescription lens.
A Clear Solution
Heavyglare Eyewear offers a special optical solution for those who need prescription lenses fitted to their choice of eyewear. There are millions of optical shops in the USA. However, very few can actually tailor fit your lenses according to your needs. Driving eyewear with special prescription lenses are extremely hard to find. Heavyglare changes this by providing a unique solution. This will allow you to drive in comfort and reduce the need to constantly adjust your eyewear to see better. For a minimal fee, Heavyglare will change your lenses to your prescription needs. You only need to fill out a special form and send your frame of choice. In a matter of days, you can get your tailor fit and unique driving eyewear. Heavyglare specializes in adding prescription to wrap-around frames, whether for sports or driving eyewear.
Choosing The Best Driving Eyewear
When it comes to driving eyewear, safety should always be a priority. Choose frames that are functional, lightweight, and provides the ultimate comfort for you. You do not want a frame that will keep pre-occupied while driving, so it should naturally suit your visual needs. When it comes to the lenses, make sure you are getting something functional. Avoid colors-altering lenses. They can change your perception of road signs. Choose lenses that reduce glare and bright lights. These hazards can cause danger while driving. ퟀ Buy eyewear that provides full protection, including periphery.