Eyewear can easily change your overall look. Using accessories can make or break your planned outfit, however, when you choose one that actually works you can completely improve your style. The best thing about eyewear is that it not only provides you with a complete look, it also helps protects your eyes, or correct visual problems.Eyewear trends can change every year. In fact, most colors and patterns usually change. HeavyGlare Eyewear , a top provider of eyewear solutions shares some of the most exciting trends this 2016.
Oversized Sunglasses
This is the overall eyeglass trend this 2016. Many fashion watchers noticed how oversized glasses ruled the fashion runway for the spring and summer 2016. Extra large sunglasses from
Versace
or
DKNY
are some of the good considerations.
Also Read: Eco Eyewear: Saving Earth One Glasses At A time
For many years in the past cat eye
prescription sunglasses
reigned supreme. In 2016, a combination of cat eye and round sunnies are preferred. Burberry and DKNY have some great rounded cat eye sunglasses that you can choose.
Aviator sunglasses have been around for many years. The timeless classic is still the choice of many fashion lovers this 2016. With additional futuristic touches, then it is not surprising that it is seen in the runway again. Some of the best examples are from
Gatorz Akon
,
Oakley
, and
Spy Optic
.
Weird and psychedelic is what best describe this type of glasses. This perfect for anyone who prefers different eyewear shapes. Many designers attribute the rise of these geometric designs to the immense growth of technology.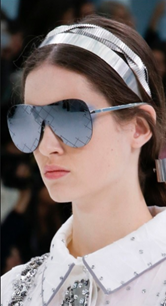 Multi Details
This year sees the trend of using so many details on sunglasses. There are all types, forms, and designs when it comes to the details added. Details such as flowers, laces, and even intricate futuristic symbols, are all added to create a unique pair.
Irregular Shaped Lenses
Talk about geometry and the future brought together. 2016 also sees the rise of irregular shaped lenses, stars, wavy cat-eye, and semi circles all rule the fashion runway.
Rounded Square Shield Eyewear
Square but not so square, rounded but not so round is another very high demand fashion accessory this year. The good thing about this eyewear, it does not matter whether you have an eyeglass, dark lens sunglasses, or light lens sunglasses they are regarded as cool this year.
Dark Lenses
Forget psychedelic lenses, dark colored ones are the best choice this year. It is the best way to protect your eyes from the sun and keep you looking cool all day long. This year, there are plenty of frames that will look great with any dark lenses.
Clear Is Dear
Still one of the top choices for 2016 eyewear are clear eyeglasses that comes in different shapes and sizes. Following the futuristic themes, you can mix and match any clear lenses to a funky frames to be trendy.