Yesterday we talked about how to find your face shape by measuring different areas around your face. Today we will go over specific details on your face shape and which eyewear or prescription sunglasses frames will best suit the shape of your face.
ANATOMY OF AN EYEWEAR FRAME
Eye Size(horizontal measurement of the lens from inner edge to outer edge) typical width ranges from 40 to 62mm
Bridge Size (distance between lenses) typical width ranges from 14 to 24mm
Temple Size (length of the eyewear arm or ear holder piece typical width ranges from 120 to 150mm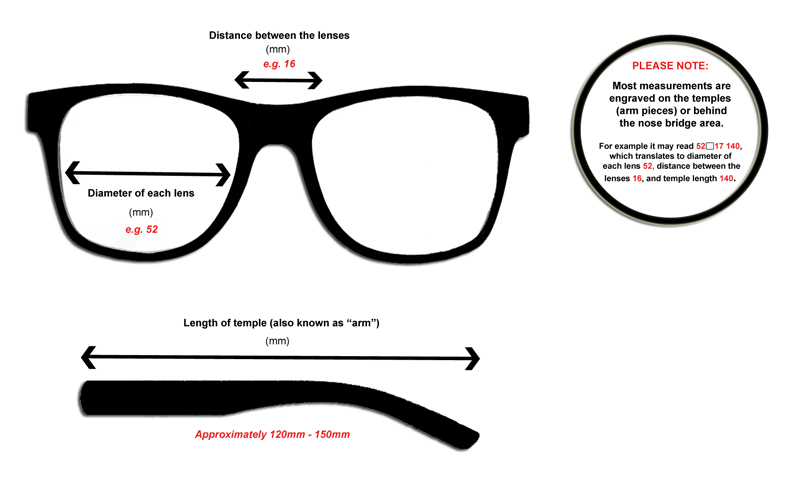 THE FACIAL SHAPE:
Although online facial applicators or virtual fit applicators will be provided by some online optical shops, having your own facial dimensions always come in handy. Following measurements of your facial dimensions, you can more or less define which of the following facial shape categories you fall into. Generally, there are about six to seven known face shapes but these 4 are the most common:
THE OVAL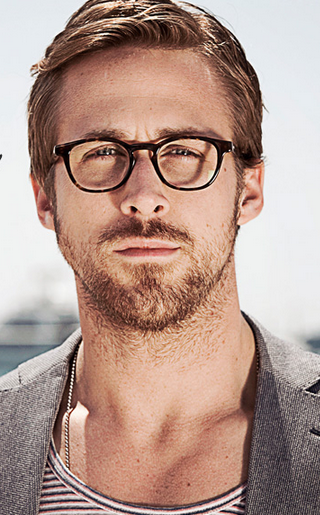 The most common across the board is normally the Oval Face. It is neither too wide nor narrow and long. It is somewhat balanced in every angle. Comparably, oval resembles the shape of an egg. In fashion and accessories, it virtually supports any kind of frame style.
Some of the most famous women celebrities with oval shaped faces include Jennifer Aniston, Jessica Alba, Salma Hayek, Julianne Moore, Uma Thurman and Tina Fey. Among the men the faces of Adam Sandler, George Clooney, Ben Affleck, Tyler Johnson and Ryan Gosling all have oval shaped faces.
Best Frames: Basically every frame will look great on you. If anything, you should avoid purely oval shaped frames, as the rule of thumb is to go for the opposite shape of your face. Circle styled frames work well for oval faces, but just oval can be a little much.
THE SQUARE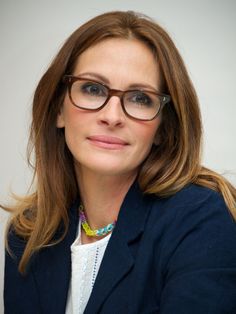 The Square Face appears to have some contoured corners on the jaw and forehead. It looks more like a boxy type of face. The facial features have that distinct sharp and chiselled look.
David Beckham, Arnold Schwarzenegger and Nick Lachey and are some famous square-faced celebrities. The females include Julia Roberts, Paris Hilton, Olivia Wilde and Lucy Liu.
Best Frames: For women, opt with ones that have curves and smooth lines to help soften your facial features. Low-profile frames are best as they don't draw any stark attention to your already angular face. For men, follow the previous statement but you can include a little more dramatic look to your face, as most men enjoy the "chiseled" look. Feel free to add in darker colors if you would like.
Also Read: The Essential Guide to Buying Glasses Online: Part 1
THE ROUND
The Round Face is the simplest of all the face shapes as it develops as a natural shape. The Round Face appears to have some contour corners on the jaw and forehead.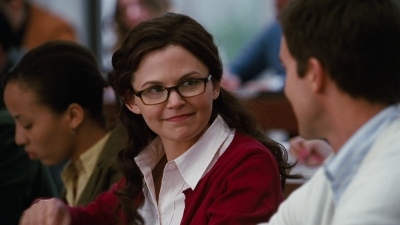 Faces of Drew Barrymore, Ginnifer Goodwin and Kate Bosworth are round. Round-faced men celebrities include Jack Black, Jonah Hill and Gerard Butler.
Best Frames: Go for straight, angular frames that will add structure to your face and ones that are wider than they are deep. Dark frames are great as they will help define your face. Just avoid any frames with a lot of curves.
THE HEART
The Heart Face has a wider forehead, becoming slimmer and narrow through the jaw line.
Personalities with famous heart shape faces are Mila Kunis, Reese Witherspoon, Rashida Jones, Natalie Portman and Michelle Pfeifer. Men with heart shaped faces include Robert Pattinson, Brad Pitt, Colin Farrell and Liam Hemsworth.
Best Frames: Stick to frames that are slightly rounded. Oval shapes are good for heart faces, as are glasses with a broader bottom than top. They will bring balance to the wideness of your forward and make your chin appear less severe.
Remember that every human face is unique by its exact size. These essentials are merely a guide to help you determine your facial shape, especially while buying glasses online. Here is our full line of current eyewear at Heavyglare . Feel free to connect with us if there is a frame you don't see in-stock, but are interested in!
Photo Credit: Pinterest.com