Triathlon is one of the fastest growing endurance sports in the world. Thousands of sports enthusiasts participate in various races around the world. A triathlon is a multiple-stage competition which involves the completion of three sequential and continuous endurance sports. There are many variations of these disciplines, the most popular include swimming, cycling and running in continuous succession over varied distances. Triathletes compete for the fastest overall completion time of the course, this includes timed transitions in between the swimming, cycling, and running components. Triathlon is steadily growing in participants every year. According to the Sports and Fitness Industry Association, the number of people who participated in endurance sports between 2012 and 2013 has grown to more than 25%. The most recognized branded ultra distance triathlon in the world is the Ironman.

Triathlon Basics What Beginners Need To Know
Training for a cycling race is difficult. Training for a marathon or a 400-meter swim will need months of preparation, to do all these in succession will require plenty of dedication, skill, and practice. Nevertheless, completing a triathlon race is very fulfilling, thus, many athletes try to their best to complete different races every year. Every beginner triathlete will need all the tips that they can get in order to complete each race.
Pick the Right Race
One of the most important things that you should know is that not all triathlons are created equal. There are at least 3 main types of triathlon, based on the distance.
Sprint Tri is comprised of a 750-meter swim (0.47 mile), 20 kilometers (12 miles), and 5 kilometers (3.1 miles)
Olympic Tri is comprised of a 1.5 kilometer (0.93 miles) swim, 40 kilometers (25 miles) bike, and 10kilometers (6.2 miles) run.
Ultra or Ironman is the most popular which comprises of a 3.8 kilometers (2.4 miles) swim, 180.2 kilometers (112.0 miles) bike, and a 42.2 kilometers (26.2 miles) run.
First-time triathletes should consider signing up for the shorter races first. Eventually, you will be able to prepare yourself for the longer and more challenging races. Take note, that while the Ironman is the most famous race, participating in shorter races will help condition your body better for the longer ones. There are plenty of local races which you can sign up with. In addition, you can also join other endurance races like a marathon or cross country cycling.
Also Read: Basics About Poker Mirror Coating
Choose The Right Gear
Triathlon may require plenty of gear think of a good bike, helmet, running shoes, water belt, eyewear, and a triathlon suit. When it comes to this sport, functional gears are more important than making sure you look fashionable. A triathlon suit is most important because you have a limited time in the different transition areas, changing your clothes will mean extra time. A triathlon suit no longer necessitates changing from one sportswear to another. Choose a sportswear which helps improve your circulation and muscle performance during the race.As for the bike, there are thousands of bikes from which you can choose from. Professional triathletes share that you should start with beginner bikes. Choose lightweight models with aluminium bodies. A good and reliable bike is essential because it is your primary tool for the cycling part of the race. You can use various biking websites to get an idea of the best beginner bikes available.
Plan a Good Workout
According to pro triathlete, Meredith Kessler, Preparing for a triathlon race requires plenty of dedication; it can be daunting because you need to balance work, family, friends and training schedules at the same time. You need to plan a good workout, choose short but quality exercises to ensure that you do not sacrifice your whole day. You can create a training plan which can meet your daily schedules. Fortunately, triathlon involves three endurance disciplines, meaning you can apply flexibility when it comes to training. For example, during hot days, you can choose to practice swimming instead of running or biking. If you are short on time, you can also apply cross training which helps in strengthening your body.
Work on Your Weaknesses
Since triathlon is a combination of three sports, you need to make sure you workout on ones that you are particularly weak at. According to Adam Kelinson, a recreational triathlete, It is easy to gravitate naturally to one particular part (of the triathlon). However, your strength in one area will not help if you have a weakness in any of the other two disciplines. It is important that you work hard for each of the sport, and to practice harder for the discipline that needs adjustments.
Plan Out Changes In Your Body
Along with a good workout, a good diet will also help ensure that you are able to perform at your best. You need to maintain a healthy body weight which is important if you want to be able to move lightly. Your diet and workout will help you achieve your right weight.
Understanding Each Discipline
Each sport in triathlon is important if you want to complete the race. You should consider being able to manage swimming, cycling and running equally.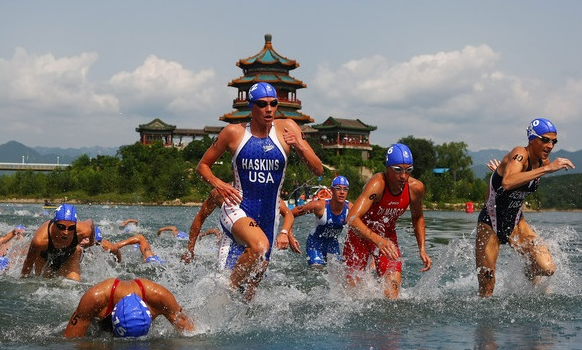 Swimming
When it involves swimming, freestyle is the best stroke for a triathlon. Freestyle is more efficient because it will enable to make you move quickly in the open water. Take note, knowing how to swim is important but your knowledge of swimming may not mean you can move fast in the water. Understanding the correct swimming form and techniques will help you hurdle common swimming problems. Practicing different drills will help you move faster in the water this include sidekicks to work on proper breathing and rotating your body from time to time. You also need to learn the one arm stroke and catch-up drill to help you single out and correct form for every arm. Finally, you should practice laps with a buoy between your legs to help you focus on strengthening your arms, as well as, holding on to a kickboard to help you strengthen your legs.Many beginner triathletes make the mistake to not learning how to rotate the right way. In the end, they waste too much time and energy by lifting their head out of the water to breathe. Pro triathletes make their swimming more efficient by rotating their bodies sideways to get breathing air. You will be able to improve your stroke drastically by doing different drills, while freestyle is your best stroke, familiarizing yourself with different ones will help you get through the water more efficiently.One good tip is to train on land using resistance bands to help you see your arm and leg movement betters. Many pro triathletes do this kind of training to help them focus on their arm and body movements. Getting familiar with your body movements will help you become comfortable when you are already in the water. Finally, you should learn how to start your swim the right way. Many first time competitors panic at the beginning of the race. With more than a 100 people starting the swim, you may feel a rush of adrenaline which also means you may have breathing difficulties. Pro triathletes share that they alternate between freestyle and breaststroke to help them catch their breath.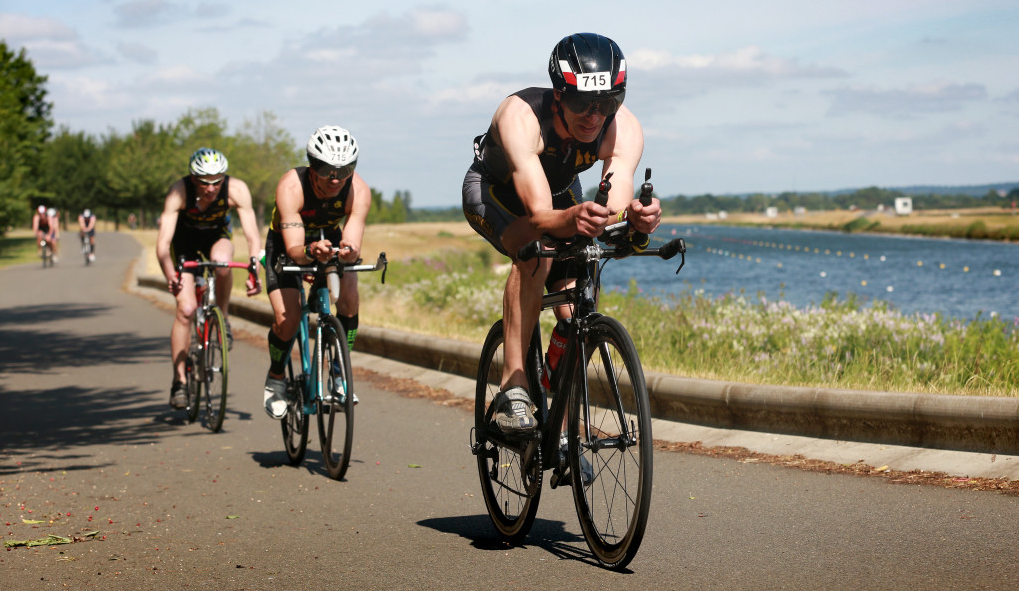 Biking
Biking is typically considered easier compared to the other discipline, but first-time cyclists may still worry about this sport. According to pro triathletes, the best start is to get familiarized with your bike and the various gears. Familiarizing yourself with the gears will help you adjust the way you pedal on different terrains. During your race, you may be looking at different terrains and various roads, knowing which gear performs best will help you get a better ride. Another very important thing to remember is to become acquainted with the sensitivity of your brakes.Clipless pedals are better for triathlons because it allows you to waste less energy. You are able to get power when are pushing down and when pulling up on the pedals, so your speed is increased exponentially. Clipping in, however, can be intimidating if you are not familiar with it, so the best thing that you can do is to ask someone who knows to teach you. Practicing will help you become confident on the road even if you are using clipless pedals.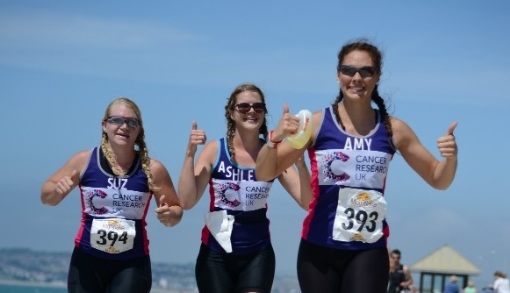 Running
Even the most experience runners may have difficulties when running 3 miles in a triathlon. Running will always come last during the race, so most likely you are already exhausted after swimming and biking. Many triathletes find themselves having difficulties to even just move their legs. However, with the right training and proper diet, your run will be smoother. Efficient runs usually allow pro triathletes to make up any lost time during transitions or other parts of the race. Practice transitioning from one swimming to biking to running to become familiar with the sport.
Choosing The Best Eyewear For Triathlon
A very important piece of your triathlon race is your eyewear. Goggles and protective
prescription sunglasses
are important if you want to perform at your best during the race. Triathlon is an outdoor race, meaning you are exposing your eyes to different hazards. Swimming in the open waters means you need to get protective goggles as there is always the presence of unknown pollutants. In addition, biking and running may require you to wear sunglasses which will help you see the road clearly no matter what the weather condition is.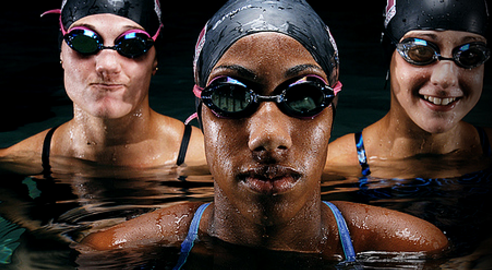 Swimming in lakes, seas, and oceans is completely different from swimming in a pool. Open water swimmers can attest that sighting in open waters is a lot more difficult than in a controlled environment like a pool. This is the reason why there are many eyewear manufacturers who create specialized goggles to help your eyes adjust better to the challenges of the open water. Using
goggles
that help increase peripheral vision, offer comfortable straps and gaskets, and crystal clear lenses will help you overcome your race easily.
Increased Peripheral Vision
One crucial difference with swimming in open water for triathlon and swimming in competitive pool races is the need for vision. Open water swimmers will constantly need to raise their head above the water to see the shore, check out buoys, and to look out for landmarks or guide boats. Goggles manufacturers created models with wider lenses to create increased peripheral vision. This will answer their overwhelming need for a good sight and stay on the course throughout the swim.
Clear Lenses
Compared to a clean and well-lit pool, swimming in the open waters means it is darker and you have a more opaque vision. Open water swimming means you need to look for goggles which have a clearly or very light tint lenses. In addition, you should also consider getting an anti-fog coating which reduces the amount of condensation within your lenses. If you are swimming during a bright sunny day, you can also consider using mirrored lenses to reduce the amount of glare getting into your eyes.
Seals and Gaskets
Swimming in the open water usually takes time. In fact, some swimmers may be there for hours without stopping. This is the reason why it is important to consider having goggles with comfortable seals and gaskets. Stopping from time to time to adjust the goggles may not be the best way to complete a triathlon. Choose goggles with soft rubber or silicon seals, which will distribute the pressure over a wider area. The soft material will ensure that the areas around your eyes are cushioned and will stay comfortable throughout the swim.
Split or Dual Straps
The straps should also provide extreme comfort for an extended period of time. Choose one with wide split or dual straps which are efficient in distributing pressure evenly across your head while still holding the goggles in place. In comparison to single straps, these offer more comfort even after hours of use in the water. Additionally, split or dual straps are also easier to adjust in case they move out of place due to head motion, waves, or sometimes even other swimmers.
Choose One That Is Best For You
There are plenty of goggles to choose from which are specifically made for open water swimming. However, many pro triathletes still prefer to use a different kind of goggles. In the end, your comfort matters, so consider factors such as the length of the swim, the quality of the water, and even the weather when choosing the best kind of goggles for your triathlon.
Running and Cycling Eyewear
Typically, running and cycling eyewear can act like the same. They should provide quality support during your ride and run. Many triathletes know how a running and cycling eyewear can help them complete the race. Cycling and running specific eyewear has been evolving for many years, all to answer the range of needs of athletes. Some of the most important features to consider are to get a lightweight frame, shatterproof lenses, and reflective coating.
Lightweight Frame
The first consideration should be a lightweight frame, so you don't have to feel that your eyewear is getting in your way. There is a reason why you never see runners or cyclists using fashionable metal frame aviators. Metal is never a good material for sports specific eyewear. The best material which offers a lightweight and durable frame is polycarbonate. Unlike metal, polycarbonate is virtually indestructible and extremely flexible.Many manufacturers use polycarbonate materials to create a wrap around frame, so your eyewear fits your head perfectly even during the most intense movements. During your run or ride, you may need plenty of ventilation on your face and eyes. Choose something that offers a good airflow and prevents the lenses from fogging up. Finally, choose something that offers a good grip with rubber nose pad and temples to help keep your eyewear from moving around your face uncomfortably.
Lenses
Choosing a wrap-around frame means you also choose large and curved lenses. Curved lenses are preferred because it allows a wide field of vision, so you feel like you are not wearing any sunglasses at all. Choose lenses which offer good protection against UVA and UVB rays of the sun. UVA and UVB rays can cause eye problems especially if your eyes are always exposed. Manufacturers like
Oakley
,
Adidas,
and
Tifosi Optics
, uses shatterproof materials. This is a very important feature because you do not to get an eye injury in case of falls or accidents.It is also important to consider prescription lenses.
Heavyglare Eyewear
offers prescription ready running or cycling eyewear. If you have eyesight or vision problems using prescription eyewear will allow you to enjoy triathlon.
Fit
The fit is very important if you don't want your eyewear to bounce around while you are running or riding your bike. When it comes to fit, the best way to know is to try them on. You want something that sits closely to your face and rest nicely on your nose, forehead, and cheeks. When fitting make sure your peripheral vision is not covered. When riding or running for hours, a good fitting eyewear will help ensure comfort.