Jason Sissel with Kaenon began biking last summer almost 3,300 miles across the USA, completing 100 miles per day wearing
prescription sunglasses
, all to inspire and help others around the world. He decided to put this challenge on himself to raise funds for Endure to Cure Pediatric Cancer Foundation - a national 501(c)(3) non-profit foundation he started, which benefits children going through cancer treatments.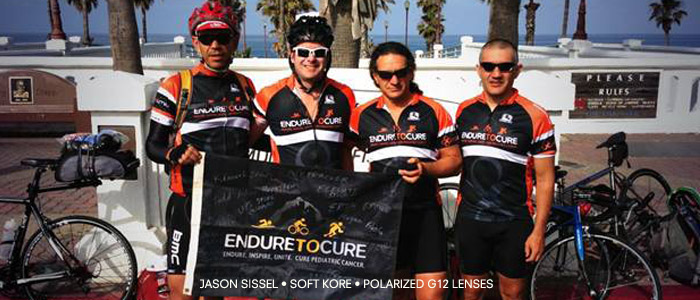 Throughout his journey, Jason rode with 3 other riders at times while climbing the Rockies on his bicycle reaching close to 11,000ft of elevation, to hitting temperatures near 125 degrees in the Mojave Desert. He originally made a personal goal to raise $15,000 to create Small Miracles (gifts and experiences) for children that are fighting cancer, and by the end of his excursion he ended up raising over $20,000 and benefiting over 100 children.
Every single donor and child that the Endure to Cure foundation has helped, Jason has written their name onto his bike, which is a constant reminder to him of why he was riding across the country. In total, he rode almost 3,300 miles, climbed 135,000ft of vertical and helped so many kids in their battle to find a cure against cancer.
Also Read: Spotlight on: Electric Visual's Chris Cole
Jason also wore
Kaenon's
Soft Kore
sunglasses
every second of his journey, changing to a variety of lens tints based on the natural changing elements along the way.