Carrera's bold and classic style meets the chic and mystique spirit of Jimmy Choo, bringing about a collaboration that will catch everyone's eye.
Choosing the Carrera 6000, a prime best-seller for the brand holding it's own with it's timeless silhouette, is glamed up by Jimmy Choo in multiple color ways. Thanks to specific techniques such as Optyl, and Safilo, the high performing material stays durable without any bulk or heaviness. A thin, silk sheet is set inside the frame to enhance the outside effect, becoming more elegant by the metallic finish and metal logo by the temple.
Also Read: Parko's Ride To Open Tahiti Campaign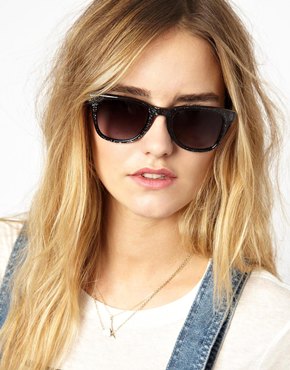 The collection was built off of Jimmy Choo's iconic brand, using signature colors such as black/gold leopard print, nude glitter, dark gold and of course bold black. The combination of the two two brands results in a feminine, powerful design with classic edge. We are lucky enough to be able to bring you the Black glitter option, created with Optyl material to allow the silky, shimmery colors that will bounce off the walls for everyone who sees you in these gems. If you are looking for something that will give a subtle statement, while at the same time being in the hands of many celebrities, look no further...
Looking for another colorway? Give us a call and we'll see if we can order them up for you! Remember, we specialize in prescription sunglasses ,eyewear!