2010 World Champion, Jodie Swallow, made Great Britain proud once again while taking 1st place at the podium in Boulder, CO for Ironman 70.3. She dominated the swim section as she pulled ahead almost a full minute on her two neighboring opponents, jumping out of the water at 23:59. Swallow held the lead in the bike course for the first half, while remaining close to fellow British teammate using prescription sunglasses, Rachel Joyce, for the remainder. Swallow exited her bike just seconds after Joyce.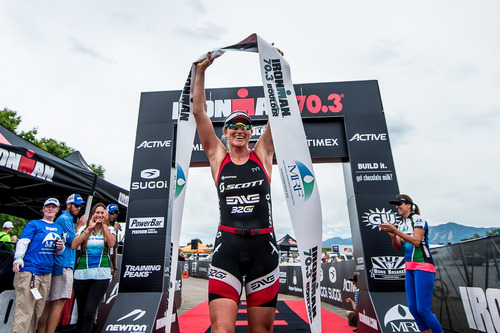 Swallow's high-speed transition into the field for the last of the triple threats - the run - gave her a five second lead on Joyce. The two were fairly close within the entire distance they had to complete, but it was Swallow who stormed through to the finish line first, leaving her with a completion time of 4:07:39. Along with her fellow teammates, Great Britain swept the podium with dignity and honor
Also Read: Nike Vision Donates Glasses to 30,000 Children
I've only been here six weeks and it just felt like everyone was cheering me on, so thank you! Swallow said while going on excitedly about the fan support from Boulder's triathlete-friendly community. I had my boyfriend James out there, too, and I saw Rinny out on the course and then with racing so close to Rachel, they all gave me so much inspiration.
On both the bike and run courses, Jodie raced in none other than her Pivlock V2 Smith sunglasses . See our full collection of Smith sunglasses here .
Pivlock V2 from smith optics on Vimeo .