Fans of U2 and Revo eyewear are singing Beautiful Day in celebration of Human Rights Month. Eyewear manufacturer Revo, U2 frontman Bono, and The Brien Holden Vision Institute have come together to help prevent blindness and other vision impairment on 5 million people around the world. For every pair of Revo Sunglasses purchased, the company will contribute a $10 donation. The accumulated amount will be used to provide sustainable eye care and pairs of eyeglasses to those living in areas where access to these are limited.

U2 has been inspiring fans with their music for more than 30 years starting with the release of the band's first album Boy' in 1980 and their most recent outing on Songs of Innocence'. The band members' enduring legacy in music is only rivaled with their works in philanthropy, especially in fighting extreme poverty in the developing parts of the world. Spearheading this battle is U2's frontman, Bono, who's never without his distinct look of tinted sunglasses whether outdoors or indoors, day or night.Also Read: Spy Optics: Home of the Happy Lens In recent interviews, Bono said that his choice of eyewear is more than just a rockstar fashion choice. Wearing the tinted sunglasses protects his eyes, which are affected by glaucoma, from the camera flash, as well as other harsh light. Bono has partnered with Revo Sunglasses Eyewear in bringing treatments and corrective eyewear to underdeveloped communities after the realization that there are people who have this same condition yet do not have access to affordable eyecare and eyewear.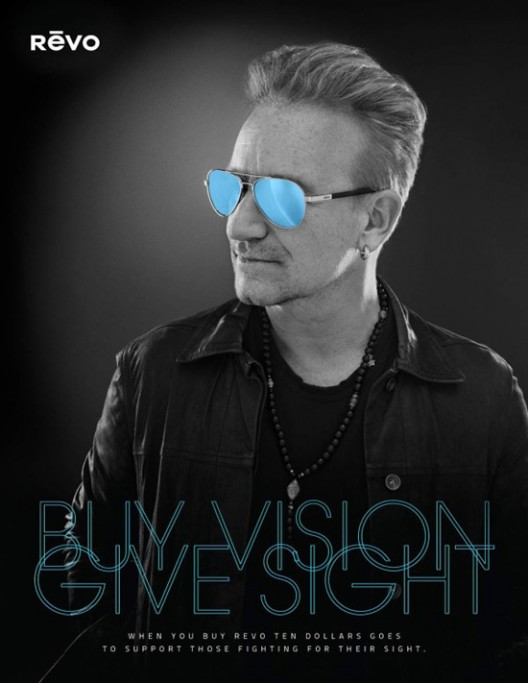 The donations will be used to provide training for locals who will provide better eye care, exams, and corrective eyeglasses to people in their communities. Teachers will also be trained to identify vision problems in students and adults. Revo Sunglasses' commitment to this project is for long-term and will provide ongoing training to communities to help prevent blindness and reduce vision impairment.